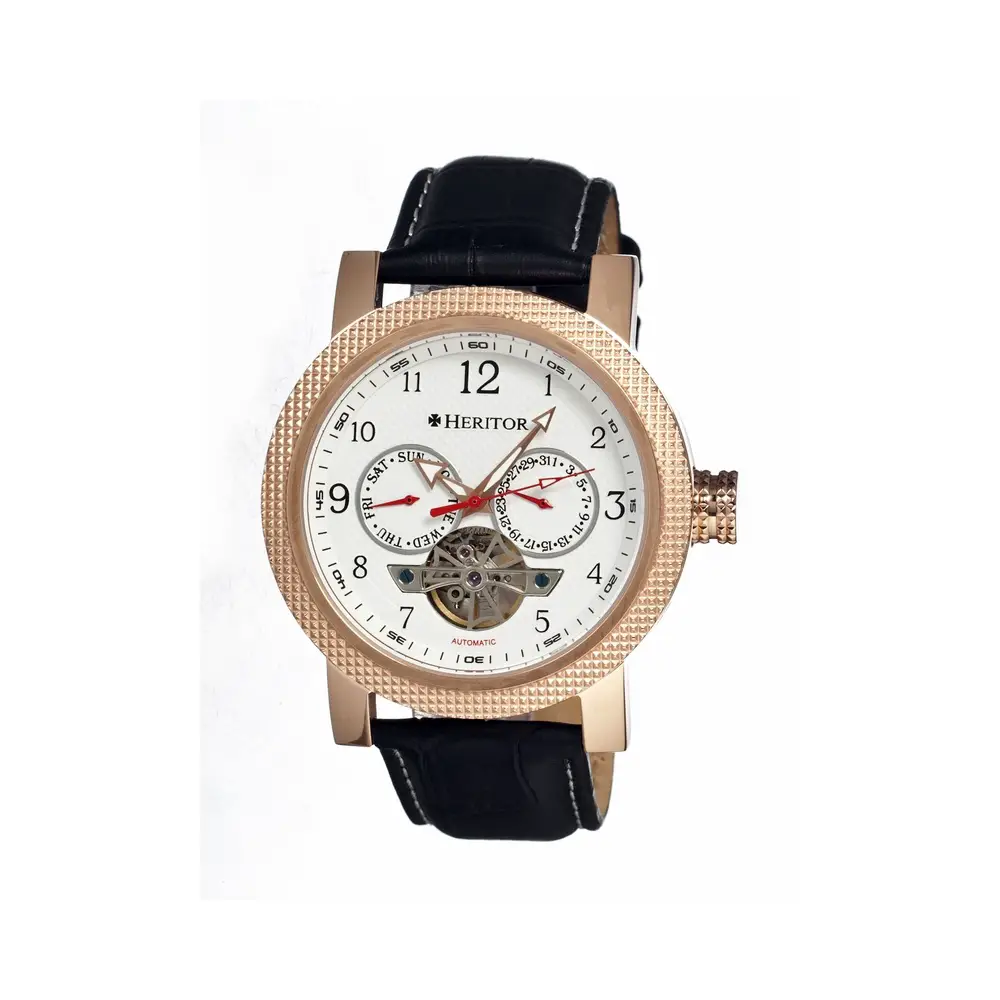 Heritor Watches is a brand from the American fashion watch manufacturer Resultco. Heritor are a 21st century international brand. Whilst the watch design is approved and finalized in America, the parts for the watches are sourced from all other the world based on quality and value. They make use of high-grade stainless steel and the leather is purchased from Italy for many of their watch straps. The parts for the watch movements are also sourced from various countries around the globe to create a quality product with premium value.
The last Heritor watch I'm showcasing today is this Herren edition. This model is built with a stainless steel casing with a PVD rose gold finish. It has a diameter of 45mm with a thickness of 15mm. The strap is made of genuine leather and fastens with a buckle clasp.
The dial features a clear and easy to read display with two sub-dials that are used to show the day and date. There's also a small keyhole port that allows you to view the balance wheel from the automatic self-winding movement.
This Heritor timepiece is powered by a automatic self-winding movement meaning it never needs a battery as it's powered by movement. You can view this movement through the rear exhibition caseback, one of my favourite features on a watch.
You'll be able to read my full Hr1503 men's Heritor watches review here soon.
Citizen Watch Co. started in 1918 as the Shokosha Watch Research Institute, changing the name to Citizen in 1930. It was founded as a joint venture between Japanese and Swiss investors.
They're currently most well known for the Eco-Drive solar powered watch movement, which never needs a battery change, and for their radio-synced atomic watches such as the Skyhawk A-T.After buying the Bulova Watch Company in 2008, Citizen Watch became the worlds largest watchmaker.
The version I'm reviewing here is the blue dialed BN0151-09L, which comes with a blue polyurethane diving strap. The BN0150-28E is also available, which is the same watch except with a black dial and black strap.The Citizen Promaster Diver range has quite a few interesting watches included in it, in many different styles which you can check out .
A seemingly minor detail that bugs a lot of people when companies get it wrong (looking at you, Seiko) is the alignment of the 12 o'clock marker, chapter ring, and bezel. No worries about that here – they're aligned perfectly.While this is just one BN0151-09L out of thousands produced, I haven't heard anything about alignment problems on any of the Citizen Promaster Divers.
One might not realize sometimes just how ambitious a non-round-cased watch can be and how difficult it is to get right. You see the very few "iconic" successes a lot, but naturally, you don't see much of the many, many others. Carré means "square" in French, and it is also the name of other product lines from Hermès such as women's scarves. The Hermès Carré H watch for 2018 is 38mm wide in steel and square-shaped with kind of wire-style lugs and a round dial design. The original Hermès Carré H from 2010 designed by designer/architect Marc Berthier was 36.5mm wide in titanium with a squarer dial, and it cost almost double this version. See the 2010 version and more background along with our initial coverage of the 2018 Hermès Carré H watch here.
The new 2018 Hermès Carré H is also designed by Berthier, I believe, and it is not the brand's only attempt at a square/rectangular/non-round watch design that will stick – our hands-on with the Hermès Cape Cod watches here, for example. Personally, first impressions of the 2018 Hermès Carré H watch immediately conjured a number of other watches for me. From dead-on, it was inevitably the well-known shape of Bell & Ross' square cases, and I couldn't quite put my finger on what the dial reminded me of – and then I remembered these also design-driven Gorilla watches with the combination of squarish case, round dial, and large double-digit numerals all around.
The rounded caseback plus the lug shape said (oh no!) "Apple Watch" – and, of course, there is the further connection that Hermès makes straps and exclusive faces for the Apple Watch. Note, however, when making that comparison, that these traits were present in the Hermès Carré H in 2010, well before the Apple Watch existed. The Hermès Carré H straps measure 21mm where they meet the lugs, but Hermès' straps that have the more common measurements of 22mm (for the 42mm Apple Watch) or 20mm (for the 38mm Apple Watch) might even fit since the lugs' bended corners seem give some leeway. What is distinctive and elegant about the case profile, however, is that it curves subtly, and the lugs are angled downwards to follow the arc. Above, these were called "wire" lugs, but they are in fact angular and appear well integrated and executed – they have also been compared to towel racks.
The Brazilian aviator Alberto Santos-Dumont became the first man to achieve powered flight without the aid of a launch device. He was, a scant two years later, the first to produce a commercially available aircraft, the Demoiselle. Unsurprisingly, he was also the first to sport his eponymous wristwatch, created by his friend Louis Cartier, which is credited as being not only the first pilot's watch, but also the first wristwatch designed specifically for men.
The Santos went on sale in 1911, serving as perhaps the most elegant "tool watch" of its age, achieving truly mass appeal when it was finally made available in bicolour and steel models in the Seventies. But the design is no relic: its handsome "rounded square" case is instantly recognisable and its credentials as a horological groundbreaker ensure its continued currency.
Cartier has chosen 2018 to celebrate Santos-Dumont's daredevil genius by offering two new steel-cased models: one automatic (available in two sizes), the other a skeletonised, manually-wound version available in the larger size
The 105.002 needs to be mentioned as well. There is actually no real difference between the last variation CK2998(-62) and the 105.002 except for the reference number. Omega changed the reference number syntax, which means getting rid of the CK identifier and 4 digit numbers. The 105.002 was actually made in a very small period of time (1962), before its successor was introduced (105.003). This makes the 105.002 perhaps even more collectible than some of the CK2998 models.
Often considered to be the second best thing when it comes to vintage Speedmasters, but a small confession has to be made here. I love this version actually a bit better than its predecessor. This particular reference number already looks a bit like the 'Moonwatch' with its black bezel and Alpha hands. Where the first Speedmaster had a bit of a military look in my opinion, this watch is a more subtle sports chronograph.There are quite a bit of variations in the CK2998, where the different styles of hands are the most important identifier. One of the most sought-after CK2998 models is the one with the 'lollipop' chronograph second hand.
Oddly enough, I've been offered 105.002 for quite a bit less money than a CK2998. Expect to pay approximately 20.000 – 25.000 Euro for a nice Speedmaster CK2998. When there is a box or/and papers as well, the price will be influenced. Don't get yourself trapped in the tropical dial (discoloured dials, turned to a brownish color). Although some might think it gives the watch a nice cool look, do not pay too much extra for this 'feature'. Versions that do add value are the so-called FAP models.
All the watches we sell are the Replica of their genuine counterparts, they are not for the people who are going to buy genuine luxury watches but for the people who love collect replica watches. Although they have the best quality and face looking than other cheap replica, but in no way are we representing them as the genuine watch, nor are we affiliated with the original manufacturers in any way, shape, or form. None of these watches carry the warranty, nor the parts, of the original manufacturers. All of our watches are replicas and are meant for entertainment and novelty purposes only. These Replica Watches are not to be sold as Authentic. By purchasing our products, Due to the fact that these Replica Watches are nearly identical in every way, the buyer must agree not to re-sell these watches as Genuine, they are just perfect clone replicas. You have one way to buy genuine watches, it is their retail store.
Please don't be fooled by low quality watch replicas made from countries with cheap watch movement workmanship such as Thailand. All our replica watches have alike look and feel of the original models, they have the same function working, a big worth for collection.
The best movement set in replica watches are: ETA 2836, ETA 2892, ETA 7750, ETA 2824, ETA 6497, os2 quartz, all other movements set in replica watches are cheap replica
Please don't be fooled by low quality watch replicas made from countries with cheap watch movement workmanship such as Thailand. All our replica watches have alike look and feel of the original models, they have the same function working, a big worth for collection.
The best movement set in replica watches are: ETA 2836, ETA 2892, ETA 7750, ETA 2824, ETA 6497, os2 quartz, all other movements set in replica watches are cheap replica
I was telling you in my last replica Tag Heuer watches post that the Tag Heuer Calibre 5 will be my next watch. Since I've seen it I wanted to have one in my collection, and now I finally got it, and I'm going to review it for you.
The designs created by Tag Heuer are some of my favorites, especially the newest addition to my fake Tag Heuer watches, the Calibre 5. I love an intricate design with many details on the dial, like the Tag Monaco replica or the Tag Heuer Grand Carrera Calibre 17 cena, but sometimes, a simple model like this one just does it for me.
As I was telling you in my previous blog post about this model, there are two versions. One has a leather strap and a white dial and the second one a stainless steel bracelet and black dial. Obviously, this is the second version. The dial is minimalistic, and it only has a few elements. It features a black dial with indexes that mark the hours. All the hour markers are represented by a thick bar, and only the 12 o'clock is represented through two of the same lines. The dial is surrounded by a detailed track for seconds and minutes, with numerals at every quarter. This makes it easier for you to easily tell the time with precision. Back to the dial, it also features the Tag Heuer and Carrera logo right beneath the 12 o'clock. The date window at 3 o'clock gives the dial a balanced look. Right above 6 o'clock you can see the model name. The minute and seconds hand are made from the same material as the numerals and other elements.The movements on this watch are Swiss because I really wanted it to look and feel like the original and, as you know, the Swiss movements are the closest ones. It was a great choice because this watch has a nice sweep and, after wearing it for a week, I didn't notice any time loss. Believe me, I checked. Both the looks and the movements on this watch are top notch, and I couldn't have made a better choice than this. I still have to see how it work in the longer run, but for now, it's good as it is.
The details on the dial look great, and the Swiss movements are what I expected. Of course, it helps that the design isn't very detailed, so there aren't many details that need to be replicated. Even so, the materials also feel high quality and the watch looks and feels great. From all the replica Tag Heuer watches I've owned until now, this one is the best.
PAM 690, which is published by Panerai in 2016, is an extremely harmonious watch, if you have noticed its dial, the metallic blue texture is the biggest feature of PAM 690. The watch belongs to Radiomir 1940 series of Panerai, so it has the most authentic features of Radiomir. Unlike modern Radiomir case, I see the case of Radiomir 1940 is very similar to Luminor's. Actually, the design of Luminor case is exactly derived from Radiomir watch. Besides the lack of crown bridge, the case of PAM 690 is very close to Luminor case.
The replica is made by S factory, which has made several pieces of high quality Panerai replica watches with clone P.3000 movement that features 72-hour power reserve. The case is very large, its diameter is 47mm, which is bigger than most Rolex Submariner watches but much thinner than them. The case and bezel are polished, the PAM reference and OP number are engraved on the case between lugs. Case back is see-through that is displaying the mechanism of the replica PAM 690.
Metallic blue dial gives a hit to the appearance of the whole watch. The dial is sandwiched, the disc below is applied with luminescence that has the same tone as leather strap, the top disc is in blue color, it is like a mirror. The tone of hands is also the same as that of leather band. The dial is perfectly in line with the leather strap color. By the way, the small second hand is running on the subdial at 9 o'clock.
Meanwhile, the replica Panerai Radiomir 1940 3 Days Automatic becomes the first titanium model in the family with a combination between a grade 2 caseband and a grade 5 titanium bezel and crown. Despite this contemporary fusion of materials, chosen to complement the chocolate brown dial, the appearance of the Radiomir 1940 remains otherwise classic, with a large 45mm cushion case and pure minimalistic lines.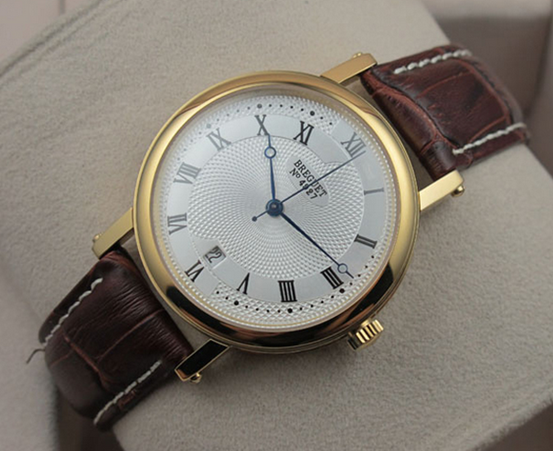 In Breguet replica all watch the series, Classiques Classic series is the best embodies the traditional values of the brand and exquisite watchmaking standard series, the series is Breguet a perfect heritage 200 years of history, their salient features affecting advanced watch making history. Breguet at the 2011 Baselworld launch of the new Classique 5717 HoraMundi watch the essence of the series will undoubtedly highlight.This table made from precious materials from: 18K rose gold or 950 platinum. Optional 3 Dial: North and South America, Asia or Eurasia and Oceania — points table represents one of the world's borders, a total of six models. Breguet team took three years to design, develop and improve this complicated watch. This is the moment when the first jump with a display area of mechanical watches. This feature allows travelers to easily read the time two preselected time zone, simply press a button, you can instantly switch does not interfere in the case of travel time from one time zone to another time zone. Stop seconds system ensures that the set-up process accurate travel time, time zone change will not  affect the time, but also by "tracking" calendar system synchronize the date and day / night indicator.
The instant when the jump zone Breguet through the introduction of this section Classique Hora Mundi, as the first display with synchronous memory date, day / night indicator and mechanical city, once again successfully challenged the quality and innovation.
Self-winding movement, with individually numbered and signed replica Breguet watches. Instantaneous time zone jumps and synchronized with the date, day / night and city indications. Cal. 77F0 is mounted by a function on the basis of 777 on the movement. Law is divided into 12 caliber, 43 jewel bearings. 55 hours power reserve. Hand-engraved 18K gold oscillating weight. Silicon straight fork lever escapement. Silicon balance spring. On balance wheel with four adjustment screws. 4 Hz vibration frequency. After six position adjustment. Strap crocodile leather strap. Which can also be equipped with Europe and Asia dials, Asia, America and Europe using models made of 950 platinum.
First conceived by Edouard Heuer in 1860, TAG Heuer has been at the forefront of watch innovation ever since. In 1887 the brand devised and built the 'oscillating pinion', used to this day in the production of mechanical chronographs. TAG watches have graced the wrists of the world's elite throughout history, including both Royalty and presidents alike. Today, TAG are now a go-to brand for those looking for sporting luxury, and with such a vast collection we can see why.
TAG Heuer Carrera: the timeless collection. In 1887, Edouard Heuer made history with the oscillating pinion. In 1963, Jack Heuer named the Carrera collection after the CARRERA PANAMERICANA, a road race of legend. He imagined an iconic design with a wide-open, easy-to-read dial and a shock-resistant and waterproof case tough enough for even the most intense road wear.
Take into consideration that original TAG Heuer watches are very expensive, not every person can afford to buy a timepiece for several thousands of dollars. Besides wearing a replica watch is more reasonable when you are traveling, and for everyday work because you may lose or damage your original TAG Heuer watch. So, now you can keep your genuine Swiss-made watches away from damage and thieves while wearing nice first-rate TAG Heuer watches Our TAG Heuer replica watches are almost indistinguishable from their original counterparts.